MOZZ'S MARK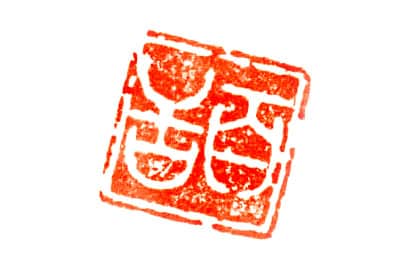 If you ever have your book signed by Mozz, you'll find out it's something very special. For not only does he draw his signature bird and sign his name with his beautiful fountain pen, but he then brings out his seal - no, not the one that balances a ball on the end of its nose - but a special Japanese hanko or soapstone stamp. He dips it in red dye, and then presses it on the page next to his name.
If you look carefully, you can see two Japanese ideograms (or kanji) that together sound out MOZZ. But more importantly they have an amazing meaning. In Japanese it reads: "Hiyaku Shita," which in English means ONE HUNDRED TONGUES! Yes, Mozz is the poet with a hundred tongues. No wonder he's such a big talker with lots of wacky things to say!
And there's more. MOZZ is Japan is a bird. It's a shrike, a bird that Mozz loved to see when he was growing up among the green fields of England. It's rather a rare bird - but there again, I suppose Mozz is too!
More about Mozz: